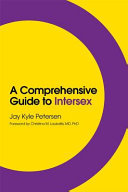 $62.99
AUD
Category: Intersex
This comprehensive yet accessible resource provides readers with everything they need to know about intersex - people who are born with any range of sex characteristics that might not fit typical binary notions about male and female bodies. Covering a wide variety of topics in an easy-to-read way, the book explores what intersex is, what it is not, a detailed overview of its 40 or so different variations, historical and social aspects of intersex and medical intervention, along with practical, proven advice on how professionals can help and support intersex people. Written by an intersex man with over 65 years of first-hand experience, this book is an ideal introduction for any medical, health and social care professional or student, as well as family members and friends, seeking to improve their practice and knowledge. ...Show more
A Country for Dying
by Abdellah Taia; Emma Ramadan (Translator)
$27.99
AUD
Category: Gay & Bi Male Fiction
An exquisite novel of North Africans in Paris by "one of the most original and necessary voices in world literature" Paris, Summer 2010. Zahira is 40 years old, Moroccan, a prostitute, traumatized by her father's suicide decades prior, and in love with a man who no longer loves her. Zannouba, Zahira's friend and protege, formerly known as Aziz, prepares for gender confirmation surgery and reflects on the reoccuring trauma of loss, including the loss of her pre-transition male persona. Mojtaba is a gay Iranian revolutionary who, having fled to Paris, seeks refuge with Zahira for the month of Ramadan. Meanwhile, Allal, Zahira's first love back in Morocco, travels to Paris to find Zahira. Through swirling, perpendicular narratives, A Country for Dying follows the inner lives of emigrants as they contend with the space between their dreams and their realities, a schism of a postcolonial world where, as Taïa writes, "So many people find themselves in the same situation. It is our destiny: To pay with our bodies for other people's future." ...Show more
$34.99
AUD
Category: Popular Culture
Join current MasterChef favourite and resident gay guy Khanh Ong as he helps you rediscover how food can make you feel, how it brings friends and family together and how it helps reconnect. Khanh shares his favourite family recipes, passed down through generations and giving an insight into his family h istory - Vietnamese classics such as prawn and pork spring rolls or tamarind crab. There are recipes to make for (and with!) your mates - lazy brunches, epic feasts, movie nights - as well as meals to help heal a broken heart, such as spaghetti for one and snickers tart. Khanh also includes the meals he loves to cook to impress a new date, from Vegemite dumplings and sriracha and coconut cauliflower to sticky date pudding. Or if you just feel like being basic and keeping things simple, there are post-gym eggs, 3pm protein balls and the easiest fried chicken ever. With more than 70 recipes and charming anecdotes about life, love, family and dating, A Gay Guy's Guide is an explosion of fashion-led fun and influence, delicious food and Khanh's distinctive tongue-in-cheek humour. As Khanh says, food is more than just sustenance, it's love, it's loss and it's life. ...Show more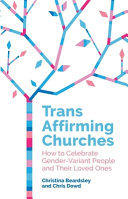 $42.99
AUD
Category: Religion & Spirituality
There remains a lack of knowledge and understanding about trans people in the church, and trans people who are religious can experience bias in their faith communities. With the help of their many years of experience working with trans people negotiating their relationships with religious institutions, the authors (one of whom is trans) have created this accessible, valuable guide that will educate and improve churches' relationship with trans people. Combining first-hand interviews, the authors' own experiences and scripture analysis, this thought-provoking guide uses this combination of ancient and contemporary stories to outline a theology that welcomes and includes all people whatever their gender identity or sexual orientation. Written from this inclusive Christian perspective, the book answers questions about trans people that are specific to church communities. ...Show more
$16.99
AUD
Category: Lesbian & Bi Fiction | Series: Penguin Modern Classics Ser.
"But, you may say, we asked you to speak about women and fiction--what has that got to do with a room of one's own? I will try to explain." So begins what is widely regarded as the foundation text of feminist literary criticism, Virginia Woolf's A Room of One's Own. Probably Woolf's most readable and e ntertaining book, it was based on papers delivered at Newnham and Girton Colleges--the two women's colleges at Cambridge University. Never losing sight of her undergraduate audience, Woolf provides a brief history of women's writing in English, a scathing account of the subtle and not so subtle ways in which women have been discouraged from writing, and a recommendation for how to change matters: "a woman must have money and a room of her own if she is to write fiction." In the process, Woolf takes on women's economic disadvantages, the underfunding of women's education, the discouragement of women from certain kinds of (lucrative) work, the ways in which women are socialized into suspicion of each other, and how women participate in their own systemic oppression. Yet, in spite of these weighty subjects, A Room of One's Ownremains throughout funny, light-hearted, engaging for the novice reader while still offering "nuggets" to the worldy-wise. It is, above and beyond all else, a very model of essay writing. This Broadview edition provides a reliable text at a very reasonable price. It contains textual notes but no appendices or introduction. ...Show more
$29.99
AUD
Category: Gay & Bi Male Fiction
From Edmund White, a bold and sweeping new novel that traces the extraordinary fates of twin sisters, one destined for Parisian nobility and the other for Catholic sainthood. Yvette and Yvonne Crawford are twin sisters, born on a humble patch of East Texas prairie but bound for far more dramatic and tra gic fates. Just as an untold fortune of oil lies beneath their daddy's land, both girls harbor their own secrets and dreams-ones that will carry them far from Texas and from each other. As the decades unfold, Yvonne will ascend the highest ranks of Parisian society as Yvette gives herself to a lifetime of worship and service in the streets of Jericó, Colombia. And yet, even as they remake themselves in their radically different lives, the twins find that the bonds of family and the past are unbreakable. Spanning the 1950s to the recent past, Edmund White's marvelous novel serves up an immensely pleasurable epic of two Texas women as their lives traverse varied worlds: the swaggering opulence of the Dallas nouveau riche, the airless pretension of the Paris gratin, and the strict piety of a Colombian convent. For nearly half a century, Edmund White's work has revitalized American literature, blithely breaking down boundaries of class and sexuality, and A Saint From Texas is one of his most joyous, gorgeously written, and piercing works to date. ...Show more
$19.99
AUD
Category: Being Yourself | Series: ABC for Me Ser.
ABC What Can I Be? presents a wonderful world full of career possibilities--from Astronomer to Zoo Keeper and everything in between. Representing kids of all kinds, this book shows that there are no limits to what a kid can pursue. Whether they are fascinated by animals, trains, flowers, teaching, or a ny other thing, kids can grow up to be whatever they want! ABC What Can I Be? presents a whole alphabet full of exciting, thoughtful, and wonderful things children can do. Pairing a career with each letter of the alphabet, ABC What Can I Be? features colorful illustrations and fascinating careers to get kids thinking about all the possibilities for their future. Each page introduces a letter of the alphabet with bright artwork and highlights a career that is fun, challenging, and makes a big impact in its own way. These 26 careers--which include Dentist, Floral Designer, Meteorologist, Robotics Engineer, Train Conductor, and Wildlife Conservationist--are just some of the things a kid can become! A fun read for the whole family,ABC What Can I Be? is not only perfect for teaching toddlers their ABCs, but also for encouraging them to consider all the careers available to them when they grow up. With endearing illustrations and mindful concepts, the ABC for Me series pairs each letter of the alphabet with words that promote big dreams and healthy living. In addition to ABC What Can I Be, Sugar Snap Studios has two additional books in the series: ABC What Can She Be and ABC What Can He Be. ...Show more
$26.99
AUD
Category: General | Series: Penguin Modern Classics Ser.
Aesthetics offers a focused study on the philosophy, literature and art which have informed Foucault's particular engagement with ethics and power, including brilliant commentaries on the work of de Sade, Rousseau, Marx, Nietzsche, Roussel and Boulez.
$19.99
AUD
Category: Young Adult Fiction
Michelle Ruiz Keil's YA fantasy debut about love, found family, and healing is an ode to post-punk San Francisco through the eyes of a Mexican-American girl.   Seventeen-year-old Xochi is alone in San Francisco, running from her painful past: the mother who abandoned her, the man who betrayed her. Then one day, she meets Pallas, a precocious twelve-year-old who lives with her rockstar family in one of the city's storybook Victorians. Xochi accepts a position as Pallas's live-in governess and quickly finds her place in the girl's tight-knit household, which operates on a free-love philosophy and easy warmth despite the band's growing fame.   But on the night of the Vernal Equinox, as a concert afterparty rages in the house below, Xochi and Pallas perform a riot-grrrl ritual in good fun, accidentally summoning a pair of ancient beings bound to avenge the wrongs of Xochi's past. She would do anything to preserve her new life, but with the creatures determined to exact vengeance on those who've hurt her, no one is safe--not the family Xochi's chosen, nor the one she left behind. ...Show more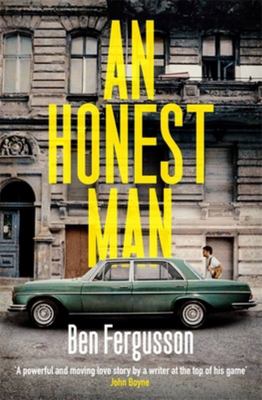 $22.99
AUD
Category: Gay & Bi Male Fiction
'The Other Hoffmann Sister confirms [Fergusson's] talent for atmospheric, morally complex historical fiction' Sunday Times In West Berlin in 1989, eighteen-year-old Ralf has just left school and is living a final golden summer with his three best friends. They spend their days swimming, smoking and day dreaming about the future, oblivious to the storm gathering on the other side of the Berlin Wall. But an unsettling discovery about his family and a meeting with the mysterious Oz shatters everything Ralf thought he knew about love and loyalty. And as old Cold War tensions begin to tear his life apart, he finds himself caught up in a web of deceit, forced to make impossible choices about his country, his family and his heart. ...Show more
AntiRacist Baby
by Ibram X. Kendi; Ashley Lukashevsky (Illustrator)
$14.99
AUD
Category: Being Yourself
Take your first steps with Antiracist Baby! Or rather, follow Antiracist Baby's nine easy steps for building a more equitable world. With bold art and thoughtful yet playful text, Antiracist Baby introduces the youngest readers and the grown-ups in their lives to the concept and power of antiracism. Pr oviding the language necessary to begin critical conversations at the earliest age, Antiracist Baby is the perfect gift for readers of all ages dedicated to forming a just society. ...Show more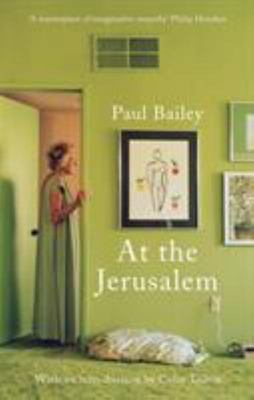 $22.99
AUD
Category: General Fiction
'A very funny book, but never jeering, full of pity, but unsentimentally harsh with the tragedy of old age which institutional kindness cannot cushion' Financial Times. Following the death from leukaemia of her daughter, Celia, Mrs Gadny goes to live with her sullen stepson Henry. But she finds little affection or contentment either with him, or with his selfish wife Thelma, or with their ungrateful children. She is sent to an old people's home, 'The Jerusalem', a converted workhouse, green-and-white-tiled. Mrs Gadny is repulsed and humiliated by the home and its inmates: women like acid-tongued Miss Trimmer, the vulgar toothless Mrs Affery, and Mrs O'Blath with her hysterical laughter. Retreating from the kindness offered her by the nurses and the friendly Mrs Capes, she withdraws into her memories, but even their fragmented recollection provides small comfort. Mrs Gadny's only escape from 'The Jerusalem' lies in her own crumbling consciousness. Paul Bailey is sensitive to the exact nuance of conversation, the precise detail that can create an environment or a mood, and draw the reader into it. His book is an exquisitely defined miniature whose impression will not easily be forgotten. With an introduction by Colm Tóibín. ...Show more